Public Meetings - Open Standard and Prototype Technical Working Group
About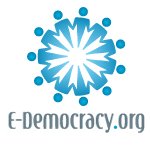 Welcome to the Public Meetings - Open Standard and Prototype Technical Working Group
Join this group to get involved in E-Democracy's effort to make local public meetings agendas and documents fundamentally more accessible and interactive across the Internet.
This is a tightly focused online group. Click here for details on the draft public meeting agenda open standard and efforts to prototype the concept. This is part of the Participation 3.0 initiative. (More)
Membership
This group is public to view, but only members can post.
Steven Clift is the volunteer Forum Manager.
Members may post no more than 2 messages in a 24 hour period
Thank You
Celebrate 20 Years! Donate Today.
Become an awesome donor today!
The best way to support your local forum.
Local business? - Ask about sponsoring your local forum. Sponsors are thanked with special public links for a month. Contact us for details.
foo