E-Democracy News
About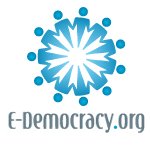 Join our one-way e-mail announcement list for periodic updates from E-Democracy.org. (Even though it says "Join Forum" above this is just for announcements.)
You will receive:
Periodic project news and special updates from our blog
Announcements about new community forums
This is the perfect place to join first if you are interested in starting an online community forum in your area.  
Also, below are our links to @edemo on Twitter and our Facebook Page.
To get more involved, join our two-way E-Democracy.org Projects online group. During the sign-up process you can select "More groups" along the way and find in on the loooong alphabetical list starting with "E."
Membership
This group is public to view, but only members can post.
Steven Clift is the volunteer Forum Manager.
Members may post no more than 1 message in a 24 hour period
foo