About E-Democracy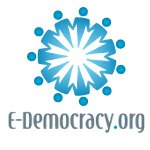 E-Democracy builds online public space in the heart of real democracy and community. Our mission is to harness the power of online tools to support participation in public life, strengthen communities, and build democracy.
Starting with the world's first election information website in 1994 in Minnesota, today we host over 50 local forums in 17 communities across three countries - New Zealand, the United Kingdom, and the United States. In addition to these "online town halls" and our "community life" forums we promote civic engagement online around the world.
Connect
Contributions are Tax Deductible
E-Democracy is a U.S. registered 501(c)(3) nonprofit non-partisan organization that accepts grants and donations. We estimate that 90% of our labor is donated by volunteers. In 1996 we received 501(c)(3) nonprofit status from the IRS (final determination letter - PDF), making contributions tax-deductible, and our official Articles of Incorporation were approved by the IRS on September 25, 1996. We are registered with GuideStar.
E-Democracy.org content is licensed under a Creative Commons Attribution 3.0 Unported License.